Wheels
The Protempo wheels and castors are subdivided into series. Each wheel series has its own, unique features. To find the right wheel or castor for your application, you can use the filters on the left of this page. Here, you can enter the specifications the wheel or castor should meet, including their diameter, load capacity and the tread material. Thanks to the filter, only the wheel series relevant to you will remain. If you continue, you will see the various fork options. Can't quite find the right wheel, or would you like advice from one of our experts? Feel free to contact us. Our specialists are always happy to help.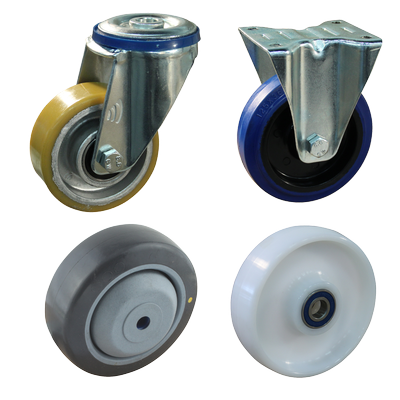 The Protempo wheels and wheel series
The wheels and castors by Protempo are subdivided into series. Each series has its own special characteristics. These characteristics include their load capacity, the wheel bearings, the rim material and the tread material. We are the place to go for wheels and castors with, among other things, ball bearings, slide bearings and roller bearings. Rims are available in aluminium, steel, or plastic, to name a few examples. When it comes to the thread, we offer wheels and castors with treads made of rubber or thermoplastic rubber (TPE), cast iron, steel or plastics, such as polyamide and polypropylene, polyurethane and thermoplastic polyurethane (TPU).
Looking for a wheel or castor for a special application?
The Protempo wheel series also include special wheels and castors, such as narrow-gauge wheels and flanged wheels, pallet truck rollers, swivel and fixed castors with pneumatic tyres and heat-resistant wheels. In addition, our assortment includes Alwayse ball transfer units, which will allow you to smoothly and accurately move cargo for your internal transportation, among other things.
Quality, service and custom solutions
Thanks to our long-term dealerships with various well-known top brands, we have been able to offer you excellent quality for over 45 years. In addition, we are always happy to advise you to make sure you always find the right wheel or castor for your application. It is also possible to have custom wheels made, as we have our own assembly department. We are no strangers to custom solutions.