Support wheels and legs (agricultural)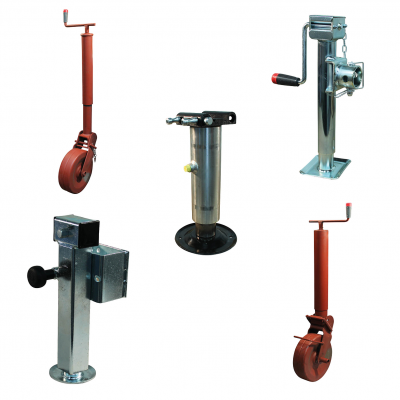 Here, you can find an extensive range of support wheels (jockey wheels), support legs and stabilizers for agricultural application, all with high load-bearing capacities. Our range includes both automatically and manually collapsible support legs, as well as hydraulic varieties. Of course, service parts such as spare wheels, crank handles, knobs or levers are also available.
These support wheels and legs are highly versatile. We have carried an extensive range of products by the Italian brand SIMOL for years. These support wheels and legs are commonly found on agricultural trailers for hay bales, corn, potatoes, beets, manure and cattle or agricultural tipper trailers. However, SIMOL also offers a wealth of options for agricultural machines and heavy-duty trailers. A test installation was developed as a result of a collaboration between SIMOL and the university of Bologna, and this installation is used to perform specific stress tests in order to meet ISO-12140 standards.