Hinges and locks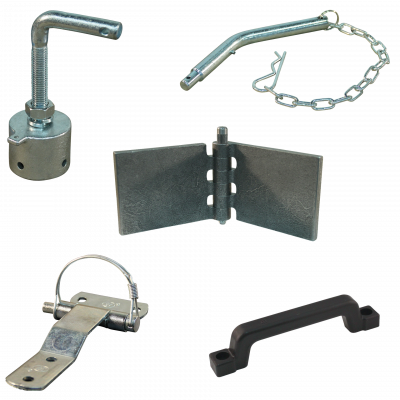 Reliable hinges and locks are a must for your trailer. Our assortment includes both galvanised and stainless-steel hinges and locks. We offer sets or loose parts. When it comes to accessories for tarps and slide tarps for trailers, we can deliver many parts directly from stock.
Are you looking for quality hinges and locks for your trailer or horse trailer? Protempo has a wide selection to choose from. Thanks to our extensive stock, we can deliver orders quickly. We offer separate parts for the replacement of hinges and locks.
Our extensive range also includes toggle latches for side panels, both in complete sets as well as with separate brackets and counterparts.
Tipper trailer
The web store features
complete sets for your tipper trailer
. This set connects the frame and the loading platform and allows for tipping in 3 directions. We offer varieties ranging from 3500kg to 15000kg.
These tipper hinge sets come with safety latches, weldable balls, nylon pads and pans. For one-directional tipping, we have put together
a special car transporter tipping set
.