Series 840 / 841 / 842 / 844 / 847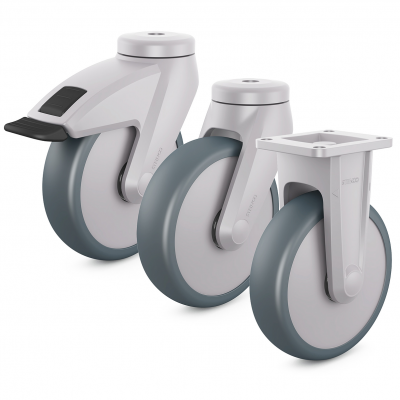 Swivel castors with a polyamide fork, featuring a combination of a plain and a ball bearing for castors with a 75-mm diameter, or double ball bearings for castors with a 100-mm and 125-mm diameter. The tread is made of grey, non-marking thermoplastic rubber (TPE). These castors have a riveted axle. The castors of the 841 series feature a wheel lock (for 75-mm diameters) or a total lock (for diameters over 75 mm). The castors of the 842 series feature a directional lock. The castors of the 847 series feature both a total and a directional lock. Also available as fixed castors in the 844 castor series. These are only available with plate connection.

The 840 and 841 castor series are available with 75-mm, 100-mm, and 125-mm diameters. Available with bolt hole, stem, plate and threaded stem connection, just like the 842 and 847 castor series. The 842, 844, and 847 castor series are available in 100 and 125-mm diameters. The load capacity ranges from 60 to 100 kg.

Can't find the specific Steinco product you're looking for on our website? Contact us, and we'll happily order it for you.