Series 558 / 558W / 558X / 559 / 559W / 559X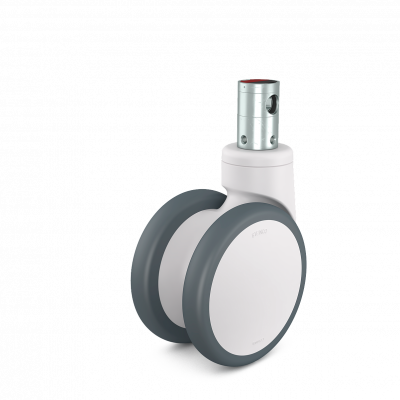 Double swivel castors with a polyamide fork, equipped with a precision ball bearing. The tread is made of grey, non-marking thermoplastic polyurethane (TPU), and the castor features a riveted axle. The castors of the 558W and 559W series are machine washable. The castors in the 558 and 558W series are equipped with a centrally controllable total lock. The 559 and 559W series feature either a centrally controllable total lock or a centrally controllable directional lock. The brakes of all castors in this series are quiet and can be engaged with minimum effort. In addition, the castors are maintenance free. Moreover, they have been awarded the iF Product Design Award. All castors are available with a stem connection and a diameter of 125- and 150-mm. Load capacity: 110-150 kg.
The castors of the 558X and 559X series are the heavy versions of the castors of the 558 and 559 series. These heavy versions have a diameter of 150-mm and a load capacity of 200 kg.

Can't find the specific Steinco product you're looking for on our website? Contact us, and we'll happily order it for you.