Series 550 / 551 / 554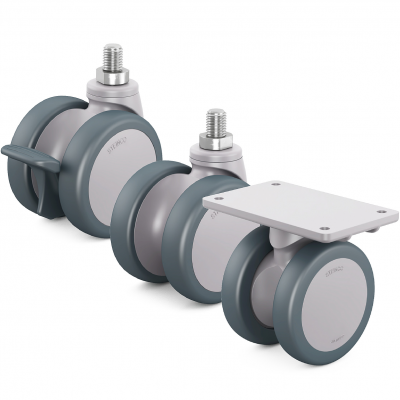 Double swivel castors with a polyamide fork. These castors feature a combination of a plain and a ball bearing in the fork for castors with a 65, 75 or 100-mm diameter. Castors with a 125 or 150-mm diameter feature forks equipped with precision ball bearings. The tread is made of grey, non-marking thermoplastic polyurethane (TPU). The castors of the 551 series feature a wheel lock (for 65-mm diameters) or a total lock (for diameters over 65 mm). Also available as fixed castors in the 554 series.
The 550 and 551 castor series are available with 65-, 75-, 100-, 125- and 150-mm diameters. Load capacity: 70-110 kg, available with stem, plate or threaded stem connection. The castors of the 554 series have a diameter of 65-mm and a load capacity of 70 kg. They are available with a plate connection.

Can't find the specific Steinco product you're looking for on our website? Contact us, and we'll happily order it for you.