Series 330 / 331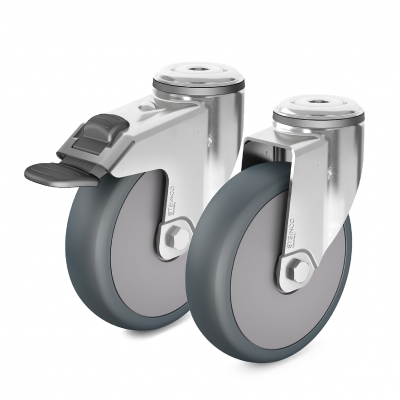 Swivel castors with a pressed and galvanised sheet-steel fork, featuring double ball bearings. The tread is made of grey, non-marking thermoplastic rubber (TPE). These castors have an axle bolt. The castors of the 331 series feature a total lock. The brake pedal is made of polyamide. Available with a 100-mm or 125-mm diameter. Load capacity: 90-100 kg. Available with bolt hole, stem, plate or threaded stem connection.
The wheels from these series correspond to the 680 / 680 A series fixed castors
.
We do not keep these castors in stock by default, but we can order them for you if necessary. The castors of
the 335, 336 and 337 series
are generally kept in stock, however. These are virtually identical to the castors of the 330 and 331. Feel free to contact us for advice.