Gas springs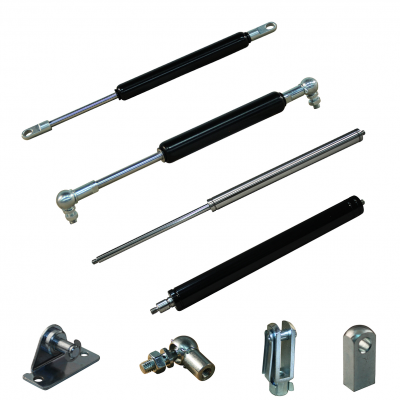 Protempo is the place to go for gas springs, mounting materials and accessories for gas springs in a variety of shapes and sizes. We carry both gas tension springs and gas compression springs, and anything from safety locks to dampers. We have worked together with HAHN Gasfedern for years, which is why we can offer you a wide range of HAHN gas springs. Thanks to this cooperation and our own gas spring filling machines, delivering custom solutions is not an issue. You are sure to find the right gas spring for your application at Protempo.
Are you looking for a gas spring, mounting materials or accessories for gas springs?
Protempo is the place to go for gas tension springs, gas compression springs and lockable gas springs by HAHN Gasfedern. We also carry mounting materials and accessories, such as safety locks and protective tubes. Thanks to our own gas spring filling machines and extensive stock, we can custom-fill your gas springs and deliver them to you quickly.
Reasons to choose for HAHN gas springs from Protempo
Protempo and HAHN Gasfedern have worked together for over 30 years. In fact, we are the only official dealer of HAHN Gasfedern in the Netherlands, Belgium and Luxembourg. Because of this, we can directly discuss even highly specific questions with them. Our product specialists are happy to offer you custom advice. Those are not the only benefits, however:
We can fill a large part of our HAHN gas spring range to your desired pressure ourselves.
Our HAHN gas spring range is extensive, as is our stock. This means we can quickly deliver your gas springs, even in larger batches.
In addition to steel gas springs, we also carry stainless-steel gas springs with the following alloys: AISI 304 (V2A) and AISI 316 (V4A). These are ideal when you are looking for a gas spring that is resistant against chemicals.
Supplier to several sectors
Our gas springs are used in a variety of sectors. From the furniture industry to the trailer industry, and from healthcare to yacht construction. Our highly-experienced specialists are happy to help you, no matter your sector. We can offer a custom solution for any request. That way, you can be sure you have the right gas spring for your application.