Industry and internal logistics
For use in various industries and for your internal logistics process, Protempo offers wear-resistant swivel and fixed castor wheels with heavy load-bearing capacity. For example, we have robust transport wheels in our range, also available in stainless steel versions, and reliable heavy-duty wheels. You will also find narrow and deep-section castors, pallet truck rollers and guide rollers, swivel and fixed castor wheels with pneumatic tyres, heat-resistant wheels and ball-bearing boxes. We have special ball wheels for use in the glass industry. Among others, we offer wheels with low rolling resistance, wheels with extremely heavy load-bearing load capacity, antistatic wheels and wheels suitable for vulnerable floors.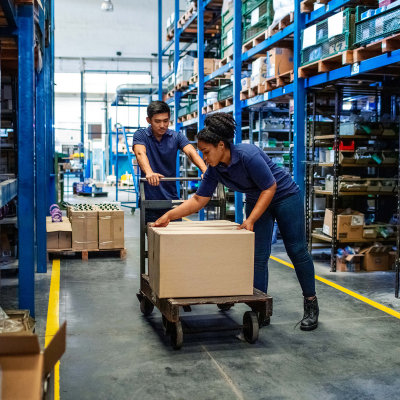 Wheels for use in industry and internal logistics
For industrial applications, you naturally need robust and durable swivel and fixed castor wheels that can withstand harsh environments and heavy loads. Whether you are looking for wheels for waste containers or roller bins, for your workshop or for transport trolleys, you can find them at Protempo. By choosing the right wheels, employees can do their work with less physical effort and you ensure an ergonomic internal and external transport. The reliable brakes guarantee a safe stop and ensure that nothing rolls away unintentionally.
Highlights of our solutions for industry and internal logistics
Transport wheels for all kinds of applications, e.g. for transport and storage trolleys in your warehouse;
Narrow gauge and deep groove wheels, also known as track rollers, for conveyor systems that run on (narrow) track/rails. They can also be used, for example, under heavy doors.
Heat-resistant castors, if required also resistant to acids, chemicals, oils and water, for conditions that expose the castors to extremely high or low temperatures;
Heavy-duty castors, suitable for (very) heavy loads;
Pallet truck rollers for your pallet truck, also widely used for other applications including as guide rollers and as machine rollers in production lines, for example;
Swivel and fixed castor wheels with pneumatic tyres, ideal for transport that has to be low-vibration and floor-saving;
Ball castors, for use in the glass industry;
Ball transfer units, for moving loads smoothly and accurately, for example on conveyor belts.
Supplier for a wide range of industries
Protempo has swivel and fixed castor wheels in its range for many applications in various industries. Our wheels are used in the automotive industry, in the manufacturing industry, in machine building, in the furniture industry and in the internal transport industry, to name a few.