Healthcare
Protempo offers a wide range of castors specifically for healthcare applications. For example, for hospital beds, medical furniture, operating tables and medical equipment. These castors are easy to clean and are resistant to many chemicals. Our healthcare castors run very smoothly, the brakes are silent and the treads are made of modern, mark-free TPE or TPU. The castors comply with all current requirements, including DIN and EN standards. The Steinco castors are a highlight in our range. State of the art with an award-winning design, genuine German quality and available worldwide through an extensive network.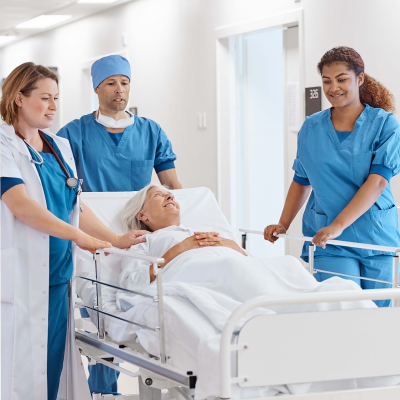 Are you looking for castors for healthcare applications?
Protempo offers you a wide range of castors suitable for use in the healthcare sector. We supply only high-quality castors, suitable for use in demanding medical environments such as hospitals, medical practices and long-term care facilities. These castors meet all modern requirements. Of course, they have been developed with a great concern for hygiene; the castors have a closed construction and are therefore easy to clean.
Healthcare sector castor options
There are many possibilities when it comes to healthcare castors. Some of the options available from Protempo:
Antistatic castors;
Castors suitable for robotized washing lines;
Castors fully made from stainless steel;
Various possibilities in terms of brakes, such as a castor brake, double brake or directional lock;
Various options in terms of tread, such as non-marking TPE or TPU.
Steinco castors for the healthcare sector
The Steinco castors
are a highlight in our range. Genuine quality castors from German soil. Steinco has over 90 years of experience in designing and manufacturing medical castors. Naturally, all these castors are up to date with all healthcare sector requirements, including the DIN and EN standards. Some of the castors from our Steinco range are also suitable for automated washing lines. The Zentrales Feststellsystem (ZFS) and Elektronisches Feststellsystem (EFS) made by Steinco are also included in our range. Please contact us for more information about these systems, we will be happy to inform you about the possibilities.